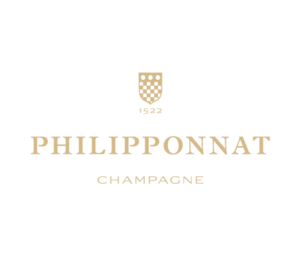 Founded in 1522 by Apvril de Philipponnat, this "Maison" de Champagne is one of the oldest in the region.
However the modern era of Champagne Philipponnat begins in 1910, when Auguste and Pierre Philipponnat establish their Maison in their current location of Mareuil sur Aÿ and, in 1935, acquire their crown jewel – the vineyards of Clos des Goisses.
Clos de Goisses, which means "steep slope", is facing south, which gives special characteristics to its grapes, thus revealing a unique character in each bottle.
The purest expression of the Philipponnat style.
Deep golden color with amber reflection.
Delicate, vivid and persistent foam.
The first nose reveals vine flower, linden and slightly toasted fresh bread.
After breathing, aromas of summer berries, citrus fruits and honey develop.
Thin, fruity, fruity (currant, raspberry, ripe grape) and full-bodied, generous and long.
At the end, take notes of biscuit and fresh bread.

Pinot Noir, Chardonnay, Pinot Meunier
Hot or cold white meats, poultry and premium cold cuts.
Ideal for cold buffets, fish and seafood.
An undeniable demonstration that a large cuvée can be savored without craftsmen.
Pale gold color.
Delicate and persistent foam.
Aromas of linden, vine flower and hawthorn.
The attack is bold and pure, with notes of citrus fruits and great vivacity without aggressiveness.
The end is long and clear, with notes of hot bread and fresh apple.

Pinot Noir, Chardonnay, Pinot Meunier
Enhances raw fish and seafood.
An ideal complement to Japanese cuisine.
It is a champagne that results from an assemblage of the Pinot Noir variety of the great terroirs of Ay and Mareuil-sur-Ay, and is the result of a careful selection of the best wines of the year.
Full-bodied and powerful, this cuvée overflows with elegance and freshness.
Pale gold in color, its thin, creamy bubbles form a persistent ring.
On the nose is fresh and refined, with fruity aromas of pear, apple and citrus fruits with a touch of bergamot, giving way to spicy and smoky notes.
The palate is fresh and winey, of a fine texture, with notes of pear and candied orange peel, leading to a spicy finish with notes of white pepper and an elegant minerality.

Excellent as an aperitif, poultry dishes, game and foie gras
It's the real emblem of Philipponnat.
It is produced from grapes grown on a single, pure chalk slope, with a 45º south-facing slope in Mareuil-sur-Ay.
Always a vintage wine, with a very low dosage, vinified mainly in wooden barrels without malolactic fermentation, being distinctly full-bodied with an exceptionally long finish.
Initially the nose is very expressive and complex, with spicy and toasted notes of pepper and pepper.
As he breathes, he reveals aromas loaded with morello fruits, Amarena and black cherries.
The fruity notes of Morello cherry and spices are apparent at the end.
An intense wine well structured, with a wonderfully long finish.

Pinot Noir and Chardonnay
Dishes of strong flavors such as game, truffles, caviar and soft cheeses