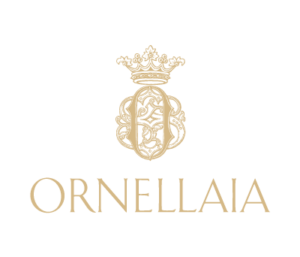 Ornellaia was founded in 1981 by Ludovico Antinori in Bolgheri, confident that it could make quality Bordeaux-style wines.
However, this descendant of the family of famous Tuscan wine growers, could hardly have realized that he would be on the path of creating two of Italy's most famous labels: Ornellaia and Masseto.
The grapes for Ornellaia are harvested manually and then selected manually on a sorting and separation table. Thanks to its combination of ripe fruits, subtlety and structure, Ornellaia has quickly climbed into the ranks of the most acclaimed Supertoscans.
Ornellaia is the quintessential expression of Bolgheri and his terroir.
Poggio Alle Gazze Dell'Ornellaia
Poggio alle Gazze dell'Ornellaia, owes its elegant Mediterranean style to the property's unique microclimate.
It expresses itself on the nose with a beautiful aromatic intensity: aromas of boxwood and white flowers, accompanied by notes of white peach, sage and herbs are all released once poured.
The wine fills the palate with elegance and tasting determination, revealing the right balance of freshness and acidic density. The finish is lively and persistent.

Sauvignon Blanc, Vermentino, Viognier and Verdicchio
Vegetarian dishes, pasta and lean fish
The desire to cultivate the exceptional qualities of the estate shaped Ornellaia's philosophy from the very beginning.
This Bianco is a blend of grape varieties, with a majority of Sauvignon Blanc, coming from three small vineyards that demonstrated their remarkable ability to express
Ornellaia's unique character.
The wine is aged in a bottle for 6 months before it is marketed.

Sauvignon Blanc and Viognier
Vegetarian dishes, pasta and lean fish
It is a wine of dense and vibrant color, with a nose of splendid aromatic complexity built around a clear and bright fruity, underlined by refined spicy and balsamic notes.
The mouth develops vibrant and complex fruity nuances framed by a dense and slender structure with tannins that achieve a harmony between firmness and carnality, concluding with a balanced and fresh finish.

Cabernet Sauvignon, Merlot, Cabernet Franc, Petit Verdot
Dishes of red meats and game
A rare combination of sumptuous opulence and polished elegance.
From an intense ruby in color, the nose immediately reveals ripe fruits, endorsing them with great freshness and complexity, underlined by delicate notes of vanilla and cocoa.
On the palate, the wine is substantial and rich, with great density, and a rare tanic quality of sedosity and softness.
The aromas of black fruit are matched by a strong note of freshness and a long and elegant finish, which extends with a delicate touch of cocoa.

Dishes of red meats and game.
It combines the Mediterranean expression of opulence and generosity with structure and complexity.

Impressive high quality of tannins on the palate: silky, refined and without sharp edges, although with a lower density than in warmer vintages.
It is a balanced wine, harmonious and very pleasant, thanks in particular to the beautiful Merlots.

Merlot, Sangiovese, Cabernet Sauvignon
Le Serre Nuove Dell'Ornellaia
It combines generosity and depth of taste with a vibrant, envol-vente personality.
Ruby color of medium intensity, in the nose develops aromas of fresh and smooth fruits, supported by fine notes of spices.
The palate is medium weight with notes of red berry. The tannins are thin, silky and particularly polished, being a soft and enveloping wine.
Clean and lively finish.

Merlot, Cabernet Sauvignon, Cabernet Franc, Petit Verdot