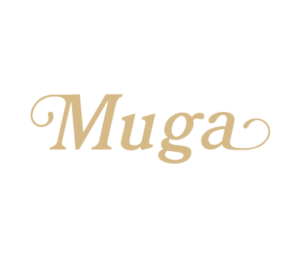 Issac Muga and his wife, Aurora Cano, bought in 1932, two traditional wine-making houses and created personalized wines of international renown, growing as fast as demand.
Muga's handmade style of wine production, especially involving aging processes, show the great attention that this winemaker expresses to details. Muga also has its own tanoaria, buying French and American oak, where they prepare their own wine barrels.
It also calls for a long-term bottling process, to what it calls Prado Enea. It is made mainly with tempranillo grape and about 20% garnacha, graciano or mazuelo.
A wine of yellow straw color and golden tones, very bright and clear. On the nose a surprising combination of honey-fennel with notes of apple, pineapple and green citrus fruits.
A pleasant tasty attack, where a perfect triangle of lees-minerals-acidity reigns, giving you a lovely feeling of fullness, freshness and complexity.
It is possible to detect very fine oak of great quality.

Fish dishes, light meats, and gourmet cheeses
Of a pale salmon color, very light, with orange reflections and a luminous glow.
On the nose, the wine is more mature than one might expect. The acidic fruits are less citrus in character, ripe peach and pineapple aromas emerge stronger.
Complete and soft thanks to the time spent in fine lees and where the typical acidity of this wine is perfectly balanced to give a smooth taste overall.

Garnacha, Viura, and Tempranillo.
Goat dishes, light meats, fish, and vegetables
Bright red medium-high mantle, very pure almost monochrome. One can find cherry, red fruit compote, a touch of licorice and anise seeds, but also nuances of sweet herb and white flower.
Smooth sensation in the mouth with a sweet predominance and well rounded tannins.
The taste is long and dry, with a curious mixture of sweet and mineral sensations.

Tempranillo, Garnacha, Mazuelo, and Graciano
A base of ripe red fruits snathed in a rather classic bouquet that gradually opens up more subtle nuances as soon as the wine is decanted.
Balanced on the palate, with body and vivacity, well-dotted tannins. Smooth and persistent finish.

Tempranillo, Garnacha, Mazuelo, and Graciano
Meat dishes such as goat or piglet
A young wine with little sign of evolution, where there are sensations of concentration and depth, smooth and full of flavor, with wide and complex reminders of aromas of fruits, minerals, spices and ink in the mouth.
Great for growing old in a bottle.

It is attractive, on the nose, with more fresh fruits than we are used to finding in this type of wine.
Precise balance between raspberries and spicy oak. It is a little more reddish than purple on the edge, suggesting excellent acidity.

Tempranillo, Mazuelo, and Graciano