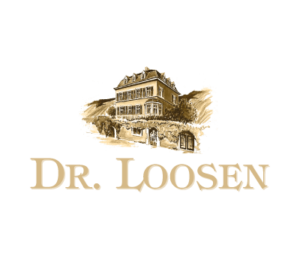 Situated on the River Mosel, among some of the most precious vineyards in the world, the Dr. Loosen estate has been in the same family for over 200 years.
When Ernst Loosen took office in 1988, he realized that, with non-grafted vines with an average age of 60 years in some of Germany's best-rated vineyards, he had the raw materials to create incredibly intense, world-class Rieslings.
To achieve this, he immediately changed the vineyard practices of the property to drastically reduce the size of the crop, stopping all chemical fertilization, preferring only the moderate use of organic fertilizers and amendments of the soil.
Today, Dr. Loosen wines are widely enjoyed around the globe and continue to receive great prizes and accolades.
This entry-level product embodies the elegant and vigorous characteristics of the Mosel vineyards. It is a brilliant wine, vibrant, fruity with the grapes of the Mosel river valley to achieve an excellent quality and superb concentration in each harvest. With its bright fruit, clean acidity, low alcohol content and affordable price, Dr. L Riesling is the ideal welcome wine for every meeting, and great for just accompanying a meal.

Pasta dishes, salads, Japanese food and desserts
A rich and structured wine, dominated by ancient slate soil with dark green tones.
Oriented south-southwest, very steep and well protected from wind and frost due to its location, Domprobst is invariably immersive and magnificent; its flavors are always demarcated, with nuances of pistachio or pecan, cassis and quince.

Seafood dishes and Japanese food
Riesling Dry "Blue Slate"
A Riesling with a light shade of straw has a surprisingly gentle mouth feel that shows a mixture of freshness through apples and pears with maturity through honey cues.
The wine is well balanced between semi-sweetness and a crisp and persistent acidity. In an instant a dwarf aroma develops that accompanies the initial flavors of the apple and pear.

Pasta dishes, salads, Japanese food and desserts
A light and remarkably fine raisin flavor with elegant notes. Pure, spicy and cheeky on the palate, it is an intense, exuberant and highly promising Auslese, with an impressive and vital acidity.
It is pure and concentrated, very salty and long, it is an impressive Auslese of one of the greatest Riesling terroirs. Deliciously salty at the end.

Strong cheese dishes and Japanese cuisine.