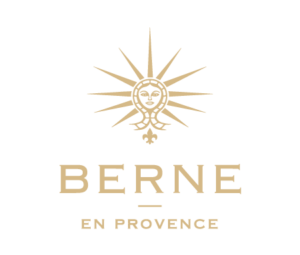 Provence is known worldwide for its rosés and is also the birthplace of great wines! The Domaine de Château de Berne has been cultivating vineyards for almost three centuries, inviting us on an elegant journey to the heart of the Côtes de Provence.
The Château is unlike any other property in Provence: a symbol of timeless elegance and authenticity with breathtaking landscapes. The vineyards are cultivated in perfect harmony with nature preserving biodiversity and expressing the image of this distinctive area of Provence.
A classic light pink Provençal from the south of France, this wine has notes of fresh strawberries, making it a summer essential, perfect for the beach and pool.
The incredible acid of this wine brings your taste buds to life, where more fruits appear as Bosc pear and raspberry notes.
The combination of Cinsault and Grenache gives the wine a large pair of red and savory fruit qualities to please different tastes.

Grenache, Cinsault, Syrah
Aperitif dishes, first dishes including grilled octopus, seafood and all the flavors of the sea
A seductive and emblematic rosé of the sunny lands of the Mediterranean. It is a wine a very light pink, like the reflection of the sun in the water.
From amazing and very inviting aromas to dominant orchard fruits such as peach and a sweet fruit salad.
With an exceptionally beautiful, floral and intense nose jumping from the glass. Its freshness and fruity bloom in the mouth.
Flavors of fresh fruits and very ripe peach, offer this wine a great texture and silky. A perfect rosé cocktail!

Grenache noir, Cinsault, Syrah, Merlot
Spicy dishes such as Szechuan chicken or Mexican dishes with a little warmth
A classic Provence!
With a floral touch to fresh, clean fruits, followed by fresh herbs and flowers – it's like walking through a Lavender field from Provence on a summer morning.
A refreshing and highly expressive wine, with a beautiful texture that gives it body and intensity to the color and nose. Dried at the end, with flavors of fresh strawberry, Provencal lavender and harvested basil.

Grenache, Cinsault, Syrah
Dishes like classic roast chicken with lemon and herbs or grilled lobster
The timeless reference of the Côtes de Provence!
Very light wine, with bright peach color. It presents an expressive nose, alive and intense, very fruity, with notes of exotic fruits, citrus fruits and stone fruits.
On the palate has a fresh attack, very round, medium palate very aromatic with frankly fruity aromas (peaches of the vineyard).
Round end, floral and very long.

Grenache Noir, Cinsault, Syrah
Salads of summer vegetables, melon and Parma ham. Traditional dishes of Provence
Coming directly from the famous Provence region!
Fresh and quite expressive is a white wine with floral and fruity aromas, an ode to the terroir of Château de Berne.
With notes of lemon, white flowers and wild mint on the nose, a generous attack on the mouth well balanced and round, evolving to fruity aromas.

Rolle, Sémillon, Ugni Blanc
Ideal as an aperitif, Provencal starters, perfect with Oriental and Asian dishes
A Organic Rosé wine from the heart of The Côtes de Provence.
Fresh and intense is a great wine for aperitif, but it is also the ideal companion for a meal! The pure expression of the exceptional limestone soils of Château de Berne.
Fresh and intense, pale peach color, reveals aromas of fresh stone fruits, citrus and delicate notes.
Long, tasty and balanced finish.

Grenache Noir, Cinsault, Vermentino
Ideal as an aperitif, Provencal starters, perfect with Oriental and Asian dishes
The property's emblematic cuvée is an exceptional wine that combines elegance and character.
Bottled in the iconic square bottle, it features the faintest pink, almost pastel tone. On the nose is expressive, alive and intense, with notes of stone fruits (peaches) and pear, a touch of exotic fruits and delicate spices.
This rosé reflects the mineral terroir of the Château de Berne, aged in oak barrels that refine its aromatic complexity, to a long and very fruity finish.

Grenache Noir, Syrah, Carignan and Cinsault
Grilled Salmon, Octopus Salad and Artichokes with Mangericão
The iconic Cuvée of the Château!
A wine of a beautiful intense yellow color, with golden reflections and a perfect glow.
On the nose displays a lot of complexity, notes of brioche and buttery biscuit, exotic fruits (pineapple, mango), enhanced with a touch of tuberous.
The palate is charming, velvety, and a wide attack. Very round, it is a very well balanced wine. Long and fresh finish in butter and honey aromas.

Fried foie gras with peaches, turbot mousseline or Bresse chicken with chanterelle mushrooms