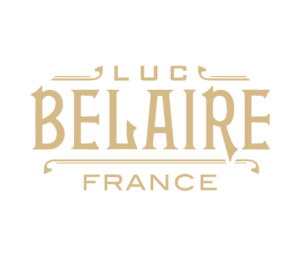 In Luc Belaire's Maison, founded in 1898, the sixth generation of winemakers oversee the production of each bottle, ensuring that the perfect balance is achieved in every bottling and creating the elegant and refreshing blend characteristic of their brand.
Every expression in our range exemplifies the best of the French wine tradition: our Rare Rosé and Luxe Rosé, from the heart of Provence-Alpes-Côte d'Azur, are natives of the world's most famous rosé wine region. Our Luxe and Gold cuvées are made in Burgundy, one of the most famous and historical wine terroirs in the world.
The Belaire range combines rare quality grapes with handcrafts that are only found in a family cellar like theirs, ensuring an unforgettable experience in each bottle.
Balanced and elegant, the wine begins with aromas of stone fruits, ripe pear and brioche. Tropical mango notes complement chardonnay fresh grapes and limestone on the palate. Finely structured and delicate, the wine has a light and dry finish.
Belaire Gold is perfect as a cold appetizer, but it is also a versatile wine that combines food, especially with seafood, grilled vegetables or poultry.

Chardonnay and Pinot Noir grapes
Seafood, grilled vegetables or poultry.
Indulge in true French luxury with our latest launch, an extraordinary 100% cuvée made with Chardonnay in Burgundy and mixed with an aged chablis oak dosage, home to some of France's most famous vineyards.

Belaire Luxe is bottled in an opulent white and gold bottle, perfectly complementing the rich but refreshing cuvée.

Luxe Rosé is a wonderfully successful wine in timeless style, produced from a classic blend in the award-winning Provence winery.
The selected grapes Syrah, Grenache and Cinsault from France's best terroir produce a lush rosy that touches the senses with fruity aromas of fresh strawberries and raspberries.
Creamy and full-bodied in the mouth and with delicate wood nuances, it surprises with its velvety finish and amazing lightness.

Syrah, Grenache, Cinsault
Cheese dishes and desserts
A delicious and delicate blend of the three most famous Rosé grapes of Provence: Syrah, Grenache and Cinsault.
A rich bouquet of red fruits precedes an elegant taste of strawberry and currant, resulting in a perfect harmony of
aroma, flavor, with a body and a refreshing ending, but not too sweet.
Very easy to drink, fruity, and elegant, displays a beautiful bright pink color, rich and vibrant.

Syrah, Grenache, and Cinsault
Cheeses, seafood, and smoked fish
Luc Belaire Bleu is a perfect harmony of the old and the new world!
The stunning aromas of fresh red fruits and tropical fruits are balanced with an elegant freshness and roundness to make it truly special.
Its spectacular sapphire colour, inspired by the beautiful blue waters of the Côte d'Azur, is also ideal for fabulous cocktails!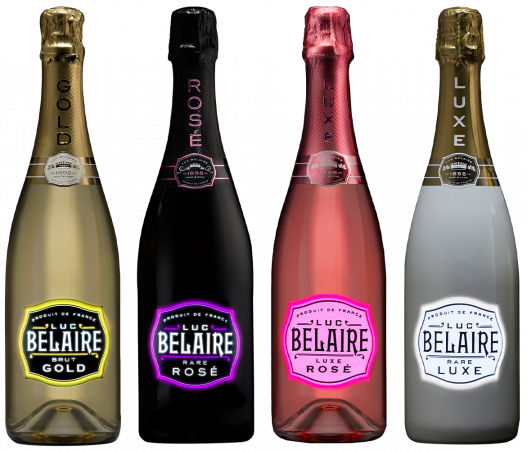 Luc Belaire's entire princiapal range in a special edition with an illuminated glow-in-the-dark label!
The Fantôme is ideal for celebratory moments after dark!