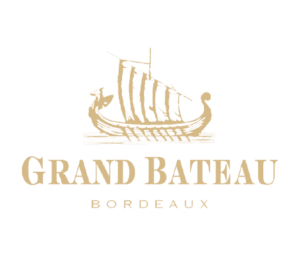 The Bordeaux region has the distinction of being the largest AOC vineyard in France, and this can be attributed to its great diversity of high quality terroirs. The wide range of wines that this region produces, although always focused mostly on the Merlot and Cabernet Sauvignon varieties, allows any wine lover to identify with at least one of the styles called "Bordeaux".
This 100% Sauvignon Blanc has an incredibly beautiful color. On the nose it is aromatic and delicately roasted, opening to vanilla flavors and exotic fresh fruits.
On the palate, it is a fresh wine, beautifully balanced with a clean acidity and fruit flavors.

Seafood dishes, grilled fish, poultry, and cheese
Elegantly flawless, consistent, and unique, Grand Bateau is designed to satisfy both younger consumers and experienced amateurs.
The aroma has a pleasant expression to ripe fruits, spices and vanilla. In the mouth is a powerful, soft wine with gently balanced fruit flavors with woodnotes.
Tannins are fused, ripe, and silky.

Merlot, Cabernet Sauvignon
Game dishes such as duck and goose