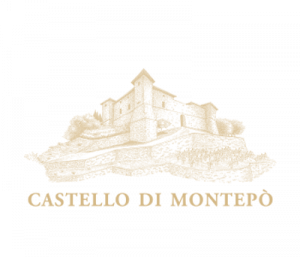 Located in the Scansano countryside, Castello di Montepò is an authentic and noble Tuscany, where the lands have become legendary vineyards.
There, Jacopo Biondi Santi and his children are committed to continuing, in the heart of maremma, the history of quality Italian wine, transmitting them to the new generations. Jacopo knew how to explore the great potential of the territory of Castello historically suitable for the production of grapes of excellence.
Montepò represents not only a famous brand of quality wine, but above all a reference model, an oenological style and a refined refinement that continues to mark the supremacy among wines of absolute excellence.
Sassoalloro, is a fresh, round and dynamic wine, whose name is inspired by an erratic rock of volcanic origin that, over the centuries, has fed countless local legends.
Bright ruby color tending to violet. Fruity bouquet, fresh and intense with notes of violets and soft flavor, velvety and elegant, extremely long but "ready".

Dishes of roasted red meat and baked fish in the oven
Celebrating the 30th anniversary of the Sassoalloro (1991-2021), the iconic wine of Castello di Montepò, Sassoalloro Oro is the fruit of the study that lasted several years between Jacopo and Tancredi Biondi Santi in collaboration with winemaker Donato Lanati.
Ruby red in color, it is a rich and bright wine. The spicy aromas are expressed with elegance, precision and many details, given by the texture of the wood in which it matures.
With an unmistakable taste that makes it a harmonious and elegant wine.

Traditional dishes from the Tuscany region
A wine of great personality, Schidione – blends the grapes of Sangiovese Grosso, Cabernet Sauvignon and Merlot – owes its name to the medieval skewer used to roast game meat, which connects it to montalcino's tradition of the great reds of "meditation".
Intense ruby color with garnet reflections, it is a wine with an elegant and complex bouquet, with notes of spices and vanilla.
Dry, with a soft but powerful tone, fleshy, rich and dry. Long and persistent end on the palate.

Sangiovese Grosso, Cabernet Sauvignon and Merlot
Dishes of game meats and seasoned cheeses
A bottle that holds Maremma's most authentic heart.
Red wine of great territorial identity, stands out for its engaging ethereal notes and fresh red fruit.
Intense ruby red color with purple reflections, with a vinoso bouquet, ethereal and elegant, with typically fresh notes of low flowers.
It is a dry wine, tasty, with good structure and persuasive tannins and good persistence.

Sangiovese Grosso and Cabernet Sauvignon
Appetizers, main courses and half-cured cheeses