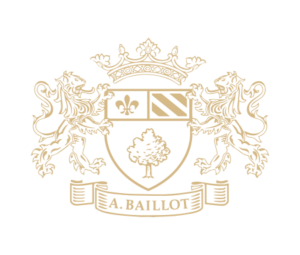 Arnaud Baillot is a Domaine that is located in Beaune, in the heart of the Cote d'Or.
Since 2013, Arnaud Baillot, passionate about the diversity of wines that the Burgundy region offers, has teamed up with his wife Laure, to produce a spectacular range of villages and crus wines from Burgundy. Arnaud himself was present all along the way, cultivating, taking care of the winemaking process, choosing the type of barrels and the aging time for each wine.
In 2017, they acquire a vineyard in Côte de Beaune, taking the first step toward having their own estate produce wines from their Domaine. Its philosophy is to respect and promote the complexity of the Burgundy wine region while producing wines based on its terroir.
Chassagne-Montrachet 1er Cru "Les Chenevottes"
A white wine from the Permier Cru vineyard "Les Chenevottes", advantageous for its position on flat ground with a healthy sun exposure.
The fruit produces concentrated flavors of ripe lemons and jasmine, with a touch of complexity.
A barrel fermentation with 12 months aging in oak creates a subtle and persistent structure.

Seafood, fish and white meats
Meursault 1er Cru "Les Bouchères"
Les Bouchéres, known for its abruptly steep slopes, rocky soils and broad southeastern exposure, has produced a wine with ripe lemon and juicy peach aromas that is elegantly packed into an acidically fresh structure.
With notes of new oak, some toasted almonds and a touch of pine, it is a pleasing layered wine.

Seafood, fish and white meats
Puligny-Montrachet 1er Cru "Referts"
The reigon of "Les Referts" faces southeast and makes the most of the sun's exposure, being located at the bottom of the slope, where the soil is deeper and more fertile, containing more calcium and iron.
The wine produced here is fuller-bodied and richer, and is also more fruity than floral, in the frequent style of Meursault.

Seafood dishes, boiled fish and white meats
Puligny-Montrachet 1er Cru "Les Pucelles"
Puligny-Montrachet is recognized as the most noble and elegant village in Burgundy.
"Les Pucelles" is a golden-colored wine with aromas of flower, hazelnut, amber and green apple that makes it fresh and mineral.
With harmonious structure, balanced, elegant and concentrated, round and full flavor without losing the delicate acidity and level of flavor.
With a touch of honey and nutty aroma, it will have a "sweet" feeling.

Seafood dishes, scallops, boiled fish and white meats
Corton-Charlemagne Grand Cru
One of the greatest wines of Burgundy, to be savored with admiration.
It has an intense golden hue. On the nose we discover some subtle rose tones, fresh almond, citrus fruits, honey, exotic wood and spices.
A majestic and well-balanced wine on the palate, yet generous and lively at the same time. Intense and complex, where all the aromas blend together and linger for a long time.

Fish Dishes, Truffle and Lobster Soup, Foie Gras and Cheese
Vosne-Romanée 1er Cru "Les Suchots"
The vast majority of red wines from Burgundy are made from Pinot Noir, fully conveying the region's extraordinarily elegant style.
"Les Suchots" is located in an elite area, adjacent to four Grand Cru vineyards, including Romanée-Saint-Vivant.
The black cherry aroma explodes in the glass, blending with captivating spices such as cinnamon, allspice, and vanilla.
On the palate it is fleshy and delicious, with just the right amount of tannins to give the wine a solid structure, it is a wine that will make you fall in love with Burgundy.

Dishes of red meats, small game and delicate cheeses
Vosne-Romanée is recognized as the most stunning area among all the producing areas of Burgundy.
Besides showing elegance, it also has the power of beauty, reminiscent of the aristocratic style. From dark soils composed of chalk and clay, the wine has intense cherry and spice aromas.
With each glass the muscular tannins create structure for this generous expression of Pinot Noir – spicy, yet incredibly smooth.

Dishes of roasted or grilled meats, poultry, vegetables and light cheeses
Romanée-Saint-Vivant Grand Cru
The oldest vines used in the production of this wine were planted in 1920 and have an average age of 95 years. Aged in new oak barrels for 15 months, the annual production is only 300 bottles.
With an expressive nose, showing perfectly ripe blackberry and blueberry flavors, with notes of licorice, clove, nutmeg, and elegant hints of violet.
It is a full-bodied, concentrated wine, the palate is clean and structured, with just the right amount of mouth-watering acidity and a delicate pink, mineral finish.

Dishes of red meats, small game and delicate cheeses